Consistently Inconsistent, I Know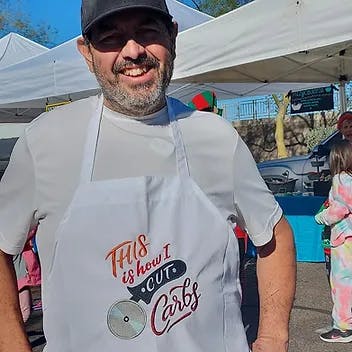 This is my first post for Papi's Pizza. I hope it makes sense to those of you reading because I am rather random. I may start to talk to you about our new fettuccini alfredo special and the next sentence is how I'd love to have a new BMW.
This post will be apologetic (mostly). More importantly, it will be therapeutic (for me). Oh, another thing, I don't have the best grammar. So, sorry.
Several years ago, my wife had a stroke. As a result she has Central Post Stroke Pain Syndrome. Doctor visits all over the country, physical therapists, acupuncture, brain specialists, you name it, we did it. It ended up that there is no cure, but she needs to avoid any stress, someplace warm if possible. So we sold our bakery/cafes, hit the road, and ended up here in sunny AZ by way of several other states.
Anyway, the pandemic hit and then it left, and I needed to find work. I had been my own boss for so long I wasn't sure what I would do. So we had a party. Why is that important? Because I made my pizzas (from the aforementioned bakery/cafes) and everyone seemed to like them so we built a pizza trailer to take to our neighborhood farmer's market. Seemed logical.
Then summer came. If you've never been in front of a 1000 degree oven in 120 degree weather - don't do it. It will make you wish you were dead. On the plus side, it's a dry heat.
Ten thousand pizzas later we bought Graziano's. We remodeled a bit, adjusted a couple of recipes, and off we go. We're six months in, we have some great reviews, and some not so great. This is where you come in.
Have you been in recently, in the past, in the future? I want to hear from you. Did you have a bad experience? Did we fix it? Did you have a good experience? Did you tell someone? There are folks out there who said they would never come back! Then a month later, they are back. There are people who raved about something they ate. They were gonna be regulars. I've never seen them again.
To the people who love our food and come back every week, thank you. We want you to continue to come and have a great time here. To those of you who have had a bad experience…I want to hear from you. I want to know how we screwed up, like if the meatballs were dry or undercooked. I want to hear if your pizza was upside down or if you had to wait two hours for your delivery to show up.
To those that said they will never be back, I REALLY want to hear from you. My wife and I always talk about fixing things, and we never want a customer to leave unhappy. We'll give you back your money on the spot, or have it remade or delivered again. Give you credit for whatever-it-was to compensate you in the future. More importantly, I want to hear from you and why you'll never come back. If you told us before, I'd like to hear it again - please!
Please email us the good, the bad, and especially the ugly at sidegatefoods@yahoo.com.
Thanks for reading. Thanks for letting us know how we can be better. Thanks for coming back.
-Ruben